We have a world class system. This system has been tested and trialled for over 10 years.
The Vehicle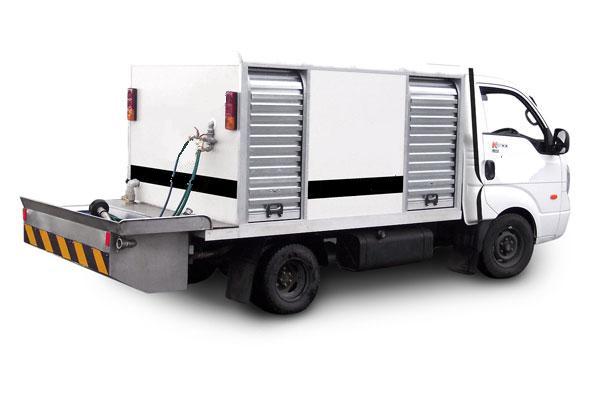 Our Systems are easily mounted on to standard 1.5 ton cab/chassis trucks. These vehicles are perfect for the job they have to do.
Strong and Robust – can handle 1000L of water and the system with no strain to the vehicle.
Low Height – allows servicing in most basements, car parks, and apartment buildings where most rubbish rooms are located.
The Bin Cleaning System
The System was specifically designed for the express purpose of cleaning and sanitizing waste disposal bins, on site, without damage or harm to the environment. Our system has been approved for operation by all Councils in and around the Auckland area. The Bin Cleaning System offers significant benefits compared to other systems currently available.
The uniquely designed rotational wash head is a key element to the design which offers extremely fast cycle times and robust performance. This required extensive development over a 2 year period and subsequent proven operation over a further 6 years.
The wash cycle time and daily operation throughput offered by the system is significantly advanced from any other type available in the world market. The prime factor in achieving this performance/reliability is due to the design from conception tailored for the purpose.
The design of the equipment offers a high volume/low pressure system. Most other known systems operate under high pressure/low volume which are often off the shelf equipment. These systems are very restricted in throughput per day, versatility, and incur high maintenance due to the higher water pressure and fine tolerances within the engineering of the pump units.
The fabrication team are active, designing and building, enhanced and new types of bin cleaning systems for overseas and in New Zealand.